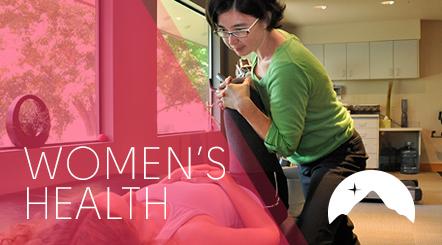 Compassionate care for women across the lifespan
From pregnancy related aches and pains to age-related pelvic dysfunction, we're here to help.
Make a Women's Health Appointment
Eastside Clinic
2698 NE Courtney Dr.
Suite 100
Bend, OR 97701
Westside Clinic
336 SW Cyber Dr.
Suite 107
Bend, OR 97702
Molly grew up in Red Wing, MN and came to physical therapy after a PT helped her return to running following a cross country injury. A lifelong athlete, Molly is passionate about returning fellow outdoor enthusiasts to their sport. While she enjoys working with patients of all ages and conditions, she specializes in pelvic health as well as pre- and postnatal care. Meet Molly
Mackenzie pursued further education to enhance her treatment of orthopedic conditions through the North American Institute of Manual Therapy and pelvic health conditions through Herman and Wallace, and APTA section on Women's Health. She is an active member of the American Physical Therapy Association (APTA), an Oregon chapter member, and member of the APTA Section on Women's Health (SOWH).  Meet Mackenzie
Diana brings extensive manual therapy training and a diverse treatment perspective to the Women's Health program at Alpine. She specializes in the treatment of pelvic health issues in men, women, and children. She's an avid cyclist and came to physical therapy after working as an organic baker and in an Alaskan fishery. Meet Diana
Emily has a strong interest in rehabbing general orthopedic injuries, pelvic floor issues, and helping the post-natal mama safely return to her prior level of activity. The core of her women's health training is through the Herman & Wallace Institute in addition to extensive mentorship and self-study. She is passionate about helping those with incontinence, pelvic pain, and prolapse. Meet Emily
Do you urinate more than 7-8 times a day? Perhaps you "leak" when you sneeze, cough, laugh, or exercise. Or maybe you find yourself always "rushing" to the bathroom when you need to urinate.
Urinary leakage is common but never normal and is certainly no laughing matter. Nearly 60% of women between the ages of 40 and 60 experience urinary incontinence. On average, women put up with urinary leakage for 4 or more years before seeking help. One of the most effective treatment options for women's incontinence is physical therapy.
Chronic Pelvic Pain (CPP) is a pain in the pelvis, back, buttocks and/or abdomen that lasts 6 months or longer. It is a complex problem and may have several causes.
According to a study published in the January 2011 edition of the Journal of the American Medical Association, 65 percent of men may still experience some bladder leakage up to one year following prostate cancer surgery. You're not alone!
Targeted therapies such as pelvic floor muscle training and bladder control strategies can reduce incontinence episodes in men by more than 50 percent following prostate-cancer surgery.
Vaginal and vulvar pain encompass several painful syndromes including Vulvodynia, Vulvar Vestibulitis, and Vaginismus. Hilary Garrett, MSPT and Diana Spring, DPT specialize in the treatment of vulvar and vaginal pain and will be sensitive to your special needs.