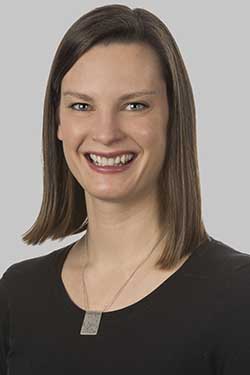 Jennifer Hughes, DPT
---
Originally from Olympia, Washington, Jennifer grew up participating in sports, but it wasn't until high school that she found her true passion in pursuing outdoor adventure.  Drawn to nature, she was regularly seen on mountaineering and rock climbing excursions, skiing the many peaks of the Pacific NW, guiding groups down Washington's most popular white water stretches, or backpacking with friends.  Early at Western Washington University, Jennifer was determined to pursue a career in physical therapy as she saw it as the perfect marriage of some of her most important values – science, sport, and her desire to help others. 
Education & Training
---
Western Washington University
Samuel Merritt University, Doctorate in Physical Therapy
Advanced Studies in Manual Therapy, Functional mobilization, Concussion Rehabilitation, and Proprioceptive Neuromuscular Facilitation
PT SPECIALTIES
---
Jennifer specializes in treating a broad scope of orthopedic injuries using a variety of manual therapy techniques as well as exercise allowing her patients to achieve a higher level of function and return to the activities they love most.  
To complement her skills in the orthopedic setting, Jennifer has a strong background in treating patients with neurological conditions.  Jennifer completed a fellowship in Proprioceptive Neuromuscular Facilitation (PNF), an approach to treating movement disorders that may stem from improper body mechanics to neurological disorders such as stroke or traumatic brain injury (TBI).  Other special interests include the treatment of vestibular dysfunction and post-concussion care. 
JENNIFER Loves Central Oregon
---
Jennifer moved to Central Oregon in 2014 to be closer to outdoor activities and raise her children in a smaller community.  A mom of three, Jennifer loves to stay active. In her free time, she enjoys downhill skiing, mountain biking, hiking, camping, rafting, and spending time at the lake with her family.
FUN FACTS ABOUT JENNIFER
---
Jennifer comes from a large family, which includes her identical twin sister.  When she's not wrangling kids, Jennifer enjoys painting and sewing.