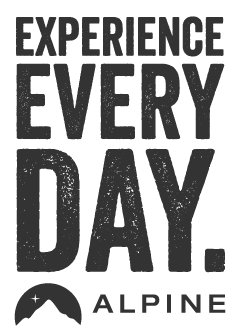 In Central Oregon, we don't just live our lives – we experience life. We ski in the morning, kick up dirt on our mountain bikes in the afternoon, then wind down the day with a pint of our favorite craft beer. As the saying goes, life is good here in the high desert.
But what happens when "good" becomes "good enough" – when chronic pain, injury or dysfunction gets in the way of your evening walk, playing with the kids, disk golfing with friends or participating in this weekend's charity run? How do you get back to the everyday experiences you love? Obstacles are a part of life, and that's why we created Alpine Physical Therapy. Our team of licensed physical therapists and certified trainers cherish the recreational and social opportunities of this region, and it's their mission to see that everyone here is able to experience life to its fullest – every day. It's what we do, and we do it well.
So go on. Experience life, every day. That's the Alpine Experience.
How We're Different
To start, we don't rely on the help of physical therapy aides or assistants to treat patients. When you come to Alpine, you see your physical therapist (PT) for a full hour – that's one-on-one time, especially for you. This designated time allows you and your PT to get to know one another. To be successful in physical therapy, you have to trust your PT. Consistency is a significant factor in building trust.
Next, we believe in providing you with the tools necessary so you can take your health to the next level. We don't want you to come to physical therapy and just do exercise. You can do that at home. You come to physical therapy to receive education on your condition and what's needed to heal, get guidance and support on how to do exercises appropriately, and progress through your treatment program using manual therapy and other treatment modalities. It is our job to help you move better. We're not a gym (although we have a personal trainer as part of our team); we're a partner.
We are proud to have some of Central Oregon's most experienced and specialized physical therapists as part of our team. Whether your concern is orthopedic, spine, pelvic health, or women's health-related, we've got you covered. Our team includes Orthopedic Clinic Specialists, Certified Lymphedema Specialists, and the only Board Certified Women's Health and Obstetrics Certified Physical Therapist in Bend and Redmond, OR. And that's only a few of our team's specialties. The high level of specialty care you receive at Alpine Physical Therapy drives our results. Experience is much more than book knowledge. Experience is what helps you heal. 
Our company creed is to help our patients experience every day. Injuries happen. We all age. But those factors shouldn't stop you from doing the things you love. It is our mission to help our patients feel good. A good day is when you feel strong enough to tackle it physically and mentally. We help you get there. That's the Alpine difference.
Meet Our Physical Therapists
Physical therapy specialties
---
Acute and Chronic Musculoskeletal Injury
Spine Injuries
Workers Injury
Motor Vehicle Accident
Post Operative Rehabilitation
Tendinitis/Overuse Syndrome
Pelvic Wellness and Women's Health
Vertigo/Dizziness
Osteoporosis
Balance/Fall prevention
Did you know that you may not need a referral to see a physical therapist? Most insurances do not require a referral to get started. Learn more about direct access in Oregon by reading our blog here.
If you're struggling with pain, don't wait. You may be able to get in with one of our PTs much sooner than your primary care provider.
So, give us a call and find out if you can get seen for physical therapy without a referral. We can't wait to meet you.
Let's Get Started.
If you have an orthopedic or musculoskeletal injury, talk to your healthcare provider and ask for a physical therapy referral. But don't let a referral stop you from calling us right now. A referral isn't required for most healthcare insurances. Call us for details.
Our physical therapists come from various backgrounds, and each has areas of expertise. When you call our office for an appointment, we can help pair you with a physical therapist best suited to your area of concern. Our orthopedic physical therapists in Bend, OR, look forward to meeting you.
Schedule an Appointment