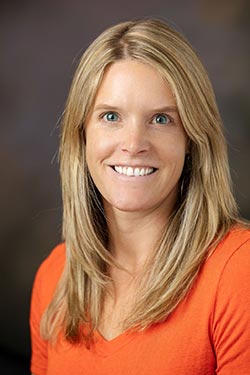 Molly Nelson, DPT
---
Born and raised in Red Wing, Minnesota, Molly Nelson developed a love for adventure and the outdoors. One of five children, she knew early on that she wanted to help people. Molly found her way to physical therapy in middle school when a physical therapist named Laurie helped Molly recover from shin splints and stress fractures caused by cross country running. Impressed with Laurie's wealth of knowledge and kindness, the memory of that experience stayed with Molly. 
After working as a CNA in high school, shadowing a number of medical professionals,  and working with developmentally disabled adults throughout college, Molly knew she wanted to be in the medical field. Following a year of studying abroad in England during her sophomore year in college and traveling extensively, Molly decided to be a physical therapist. Fueled with this newfound purpose, Molly returned to the U.S. and transferred to the College of St. Scholastica in Duluth, MN. She received both her Bachelor's of Health Science degree and Doctorate in Physical Therapy.
Education & Training
---
College of St. Scholastica, Duluth, MN
Bachelor of Health Science
Doctorate of Physical Therapy
Norton School of Lymphatic Therapy
Certified Lymphatic Training (CLT)
Academy of Pelvic Health Physical Therapy (APTA-APH)
Herman & Wallace Pelvic Rehabilitation Institute
PT SPECIALTIES
---
Molly received advanced training on pelvic health conditions through Herman & Wallace and the APTA Academy of Pelvic Health. She has extensive training in pelvic health for men, women, and children and pre and post-pregnancy care.
Molly Loves Central Oregon
---
Molly moved to Central Oregon in 2007 to enjoy a balanced lifestyle with lots of options for playing outdoors. When not working, you can find Molly going on adventures with her son and daughter. Activity is Molly's medicine and helps her balance working full time and being a mom of two kids. She enjoys skate skiing, alpine skiing, running, yoga, mountain biking, cooking, reading, and traveling. In addition, Molly strength trains regularly and strives to make each decade of her life stronger than the last.
Fun Facts About Molly
---
Molly makes Lefse, a traditional Norwegian dessert, every year at Christmas. Molly also likes impromptu dance parties with loud music while cooking in the kitchen with her kids.