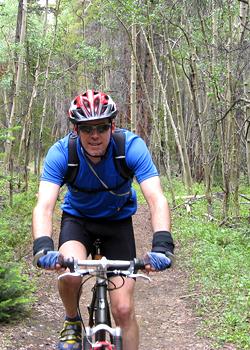 Ron Carpenter, PT, OCS
---
Ron grew up in Leadville, Colorado at 10,000 feet elevation where he developed a love of skiing and distance running in the mountains. He went on to compete at the collegiate level at Adams State College which has a long tradition of National Championships in cross country running. He has coached high school distance runners and recreational runners, too. Experience as a ski instructor as well as his own injuries piqued his interest in physical therapy.
Ron's PT Passion
Ron has an eclectic approach to solving patient problems, which have developed during his 23 years as a physical therapist. He utilizes manual therapy and exercises to specific patients' needs. He trained in the Mckenzie Method in which patients take an active role in their recovery. Ron enjoys helping people return to their active lives.
Education & Training
---
University of Utah Physical Therapy Program

Certified Mechanical Diagnosis and Therapy (MDT) through McKenzie Institute

Orthopedic Clinical Specialist (OCS)
Certified Strength and Conditioning Specialist
Ron's Central Oregon
---
Ron road bikes and mountain bikes regularly during the dry months and Nordic skis during the winter. He enjoys spending time with his family and trying to play his guitar.