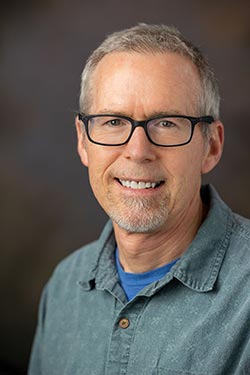 Ron Carpenter, PT, OCS
---
Having grown up at an elevation of 10,000 feet in Leadville, Colorado, it's no surprise that Ron loves the outdoors. He developed a passion for skiing and distance running in the mountains and competed at the collegiate level at Adams State University. This university has a long tradition of National Championships in XC running. Ron graduated with his Bachelor's and Master's degrees in education. 
After working as a special education teacher for a couple of years, Ron felt a calling toward a different career – something that aligned with his passion for a very active lifestyle. As a competitive runner, Ron was chronically sidelined with Achilles tendinitis. The solution that brought him relief was physical therapy and shoe orthotics, a combination that helped him remain injury-free for many years. Having never met a PT that disliked their job, he decided to become a Physical Therapist and attended the University of Utah in Salt Lake City to complete his education.
Education & Training
---
University of Utah Physical Therapy Program
Orthopedic Clinical Specialist (OCS) Certification
McKenzie Institute USA: Certified Mechanical Diagnosis and Therapy (MDT)
Certified Strength and Conditioning Specialist (CSCS)
Manual Therapy
PT SPECIAL INTERESTS
---
Ron has a passion for treating patients of all ages who have orthopedic issues. He has deep experience treating patients with shoulder, spine, and knee problems. The training he has received from his postgraduate coursework has given him the knowledge to address these and other musculoskeletal issues. Every case is different, so treatment is customized to what each patient needs.
Ron Loves Central Oregon
---
After living in Portland for two years, Ron moved to Bend in 2004 to enjoy an active lifestyle with his family. When not working, Ron enjoys spending time with his family and going on road trip adventures. A typical winter weekend finds Ron alpine skiing with his daughter or nordic skiing at Meissner Sno-Park. During the summer, you can find Ron mountain or road biking.
FUN FACTS ABOUT RON
---
Ron and his daughter are learning to play the acoustic guitar together. They enjoy playing bluegrass and Irish tunes.