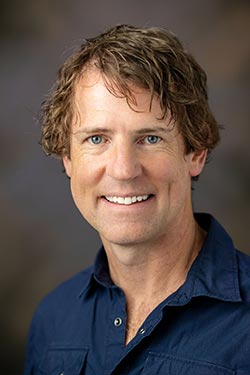 Scott Weber, PT-CLT
---
Scott Weber knew he wanted to be a physical therapist as a teenager. Growing up in the small town of Platteville, Wisconsin, he spent a lot of time outside playing sports. The youngest of three boys, Scott followed his big brothers everywhere – including to the physical therapist after one of his brothers had knee surgery. The physical therapist who treated his brother was a fantastic storyteller and would hold Scott's attention with tales of working with professional athletes. This experience, combined with his love of science and the human body, piqued Scott's interest in the profession.
While completing his undergraduate degree at the University of Wisconsin, Scott worked as a PT Aide at a small hospital in his hometown. Every Wednesday, Scott played golf with a surgeon. One day the hospital paged the surgeon while on the 11th hole. He had to walk off the course of his best round ever. At that moment, Scott knew he needed to stick with the plan to become a physical therapist. He completed the physical therapy program and went on to receive his degree in physical therapy. 
Scott founded Alpine Physical Therapy in 2006 to practice the type of physical therapy he dreamed about since graduating from PT school in 1998.
Education & Training
---
University of Wisconsin
Bachelors in Physical Therapy 
Advanced Studies in Manual Therapy, Manipulation, Deep Tissue Work, Therapeutic Exercise, Lymphedema
Specialties
---
Scott specializes in outpatient orthopedics, sports medicine, and the treatment of spine pain. He also specializes in Mechanical Diagnosis and Therapy (MDT), Active Release Techniques (ART), and Instrument-Assisted Soft Tissue Mobilization (IASTM). Scott has a special interest in treating the spine, tendinopathy, post-surgical rehabilitation, and uses diaphragmatic breathing for pain relief and faster healing.
Scott Loves Central Oregon
---
Scott and his wife, Tania, moved to Central Oregon to play outside year-round. They discovered Bend when backpacking after graduating from college and fell in love with the outdoor lifestyle. When he's not applying band-aids to one of his three children (Dane, Vaughn, and Piper), you can find Scott and his family skiing and snowboarding in the winter. You'll find him fly fishing, rock climbing, rafting, camping in his old RV, and backpacking in the summer. He also enjoys working on his golf game, especially since he knows he won't get paged on the 11th hole.
Fun Facts About Scott
---
Scott and his family spent a month volunteering at a local school located at a dump (literally) in Zihuatanejo, Mexico. The local children of the families living at the dump didn't typically go to school because their parents needed them to go through the trash every day to help support their families. This experience was pretty eye-opening for Scott and his family. During that same trip, they gave a wheelchair (donated by Norco) to an eight-year-old boy using a lawn chair with wheels to get around. Previously unable to move of his own free will, his father had to carry him around in a harness. When the boy received the wheelchair, he took off across the courtyard by himself for the first time in his life. The smile on the boy's face was priceless. For Scott, this was another powerful reminder of the joy that his work can bring to other lovely humans.