So what is up with all these people we see walking around with colorful tape on their shoulders, knees, necks…wherever? We've seen more and more of it around town, on TV, and at sporting events. At a certain point I had to accept that this was not just a fad and was clearly going to "stick" around! We are always looking to increase our knowledge of treatment techniques for our patients so I scheduled a class to learn more about the applications of Kinesiotape.
At first I wasn't sure I would be "sold" on this approach, however, after using it in the clinic I have to admit I'm now a believer. Most of my patients seem to find it very effective in limiting pain or increasing function during their recovery.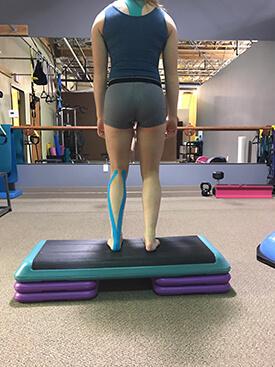 It's really quite simple really. The tape itself is essentially just stretchy tape. The amount of stretch that you apply when sticking on the tape helps you achieve whatever goal it is that you are trying to achieve. Applications include:
– Calming down or 'inhibiting' overactive muscles
– Facilitating weak muscles to improve strength and recruitment
– Decreasing inflammation
– Support joints in much the same manner that a brace would
The real beauty of using Kinesiotape is that it still allows the body to move through it's full range of motion so that the wearer can go about their regular activities without really noticing it is there. And the stuff sticks so good that usually it can be worn for 2-3 days (sometimes more). Based on my results with clients in the clinic, I highly recommend its use to assist in your recovery from injury or to improve your strength.
At Alpine PT, we've found Kinesiotape to be effective in the management of:
– Back Strain/Sprains
– Neck Strain/Headaches
– Knee Conditions
– Shoulder Conditions
– Ankle Strain/Sprain
– Hamstring/Groin injuries
– Plantar Fascitis/Heel pain
– Lymphedema
– Pre/Post Surgical Edema
Feel free to email me at scott@alpinephysicaltherapy.com if you have any further questions regarding Kinesiotape and its applications. We also have rolls for sale if you would like to be trained on how to use it on your own!