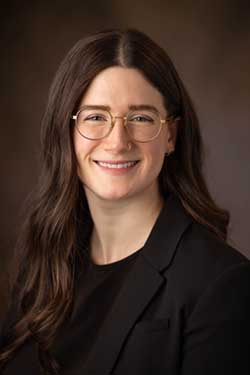 Mackenzie Van Loo, DPT, WCS, CAPP-OB
Mackenzie's personal mission statement is, "to provide quality service rooted in wisdom and intention, to combat the physical injustices of this world." While the Oregon native considered many career paths, she decided the best way to serve people and their enjoyment of life was through physical therapy. Mackenzie received her Honors Bachelor of Science in Exercise and Sport Science and Physiology at Oregon State University, then attended and graduated from Pacific University's physical therapy program. Since graduation Mackenzie has held two terms as the American Physical Therapy Association's (APTA) Federal Affairs Liaison for Oregon, participated as an early career mentor for the Oregon Physical Therapy Association, sat on a number of committees, and guest lectured at OSU-Cascades.
Education & Training
---
Pacific University, Doctorate of Physical Therapy
Board Certified Women's Clinical Specialist (WCS)
APTA Academy of Pelvic Health (APT) Certificate of Achievement in Obstetrics (CAPP-OB)
Herman & Wallace Pelvic Health Rehabilitation Institute
North American Institute of Manual Therapy (NAIOMT)
Pregnancy and Postpartum Athleticism Coach
PT Specialties
---
Mackenzie has advanced training in orthopedics, pelvic health, visceral mobilization, and obstetrics and loves putting it all together to help her patients. She is one of the few PT's to hold a board certification in Women's Clinical Specialties and was awarded a certificate of achievement in obstetrics from the APTA APH. Her favorite thing to treat is your whole body, and your whole nervous system, with all of its complexities and your goals in mind.
Mackenzie Loves Central Oregon
---
Mackenzie enjoys Bend's culture around getting outside and moving and how formative that is to raising children and living a full and balanced family life. She feels incredibly privileged to reside here and hopes to contribute to the community for a long time.
Fun Facts about Mackenzie
---
Mackenzie has five brothers, has had four concussions, and her favorite vegetable is an artichoke. When not moving her body or chasing her child, she loves cooking multi-course meals from around the world.