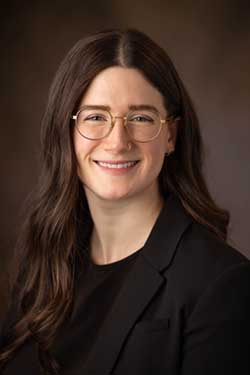 Mackenzie Van Loo, DPT, WCS, CAPP-OB
---
Oregon native Mackenzie Van Loo first considered physical therapy as a career when her high school anatomy and physiology teacher (who happened to be a physical therapist) asked if she ever thought about it as a career. Mackenzie knew she wanted to make a difference – to make the world a better place. And while she considered going to medical school and even nursing, Mackenzie valued the amount of time she would spend with patients as a physical therapist. She also appreciated the many options for areas of work and study within the profession. 
Mackenzie received her Honors Bachelors of Science at Oregon State University in Exercise and Sport Science and Physiology. While at OSU, she minored in Spanish and completed her certificate of Spanish Language from the Universidad de Cantabria in northern Spain. She then attended and graduated from Pacific University's Doctor of Physical Therapy program. Mackenzie is the only Board Certified Women's Health and Obstetrics Certified Physical Therapist in Bend and Redmond, OR. 
As the former Federal Affairs Liaison for Oregon for the American Physical Therapy Association, Mackenzie fights for people's justice at state and federal levels. She does this to ensure people can get the care they need. Mackenzie believes that if PTs can step up and educate lawmakers, the lawmakers will better understand the needs of patients and naturally be better equipped when it comes time to vote or pass a bill. 
Education & Training
---
Pacific University Doctorate of Physical Therapy
North American Institute of Manual Therapy (NAIOMT)
Academy of Pelvic Health Physical Therapy (APTA-APH)
Academy of Orthopedic Physical Therapy
Herman & Wallace Pelvic Health
PT Specialties
---
Mackenzie has advanced training in orthopedic conditions through the North American Institute for Orthopedic Manual Therapy (NAIOMT) and Academy of Orthopedic Physical Therapy. She is the only Board Certified Women's Health and Obstetrics Certified Physical Therapist in Bend and Redmond, OR. Mackenzie has received advanced training on pelvic health conditions through Herman and Wallace and the APTA Section on Women's Health.
Mackenzie Loves Central Oregon
---
Mackenzie moved to Central Oregon to work at Alpine Physical Therapy. She loves playing outside – so Bend was an easy decision. Mackenzie loves to stand up paddleboard after work in the summer and XC skiing before work in the winter. She enjoys the general culture of Bend and how people love getting outside and moving. To Mackenzie, Bend is every PTs dream city, and while she sometimes misses the green of Hillsboro, she does not miss the winters there and feels that there is nothing like a bluebird day on Mt. Bachelor. 
Fun Facts about Mackenzie
---
Mackenzie has five brothers, has had four concussions, and her favorite vegetable is an artichoke.