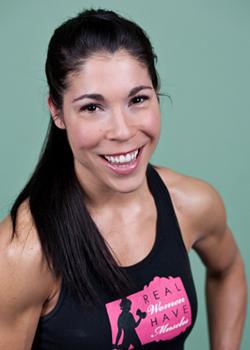 Sara Rufener, CSCS, IART Fitness Clinician, EIF-Master Trainer, PN-1, GGS-Women's Coaching Specialist
With more than 16 years of training experience, Sara is an expert fitness coach and owner of Bend Strength Lab and All Women Have Muscles. She adheres to the principles of High-Intensity Training and most often sees clients one time weekly. As a trainer and coach, Sara's job is to help guide and direct clients in their workouts so they know they are doing the right things the right way, to produce the best results.
High-Intensity Training or once-a-week training is one of the most time-efficient and results-driven ways to train while keeping the body safe and injury-free. It is not a one size fits all approach, but rather finding what is appropriate for the client and their abilities and goals.  
Sara helps correct the three most common mistakes people make when working out: improper form and technique, not training with enough intensity, and over-training.
Sara specializes in providing a solution to these common mistakes by:
Insisting on impeccable form to MAXIMIZE the benefits and MINIMIZE the risks.
Teaching the client how to train harder by training smarter, ensuring sufficient intensity and load on the muscles.
Scheduling workouts at intervals that allow for recovery and adaptation to avoid overtraining.
Sarah's Training Philosophy
Sara offers both private 1 on 1 training or training with a partner and small group training sessions of 4-6 people. 
To learn more, go to: 
Education and Training
GGS-Certified Women's Coaching Specialist
Precision Nutrition Certified, Level 1 Exercise Nutrition
IART-International Association of Resistance Trainers, Fitness Clinician
European Institute of Fitness, Master Trainer
ISSA, Certified Strength and Conditioning Specialist
Oregon State University, Bachelor of Science, Business and Behavioral Psychology – Magna Cum Laude
Sara's training philosophy
www.fitnolimits.com
www.realwomenhavemuscles.com
European Institute of Fitness
Master Trainer | ISSA Certified Strength and Conditioning Specialist
Oregon State University
Bachelors of Business and Behavioral Science – Magna Cum Laude