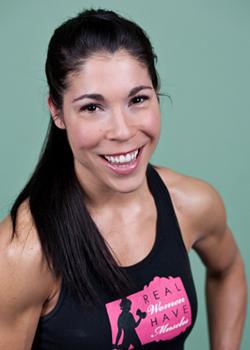 Sara Rufener, CSCS
With more than eight years of training experience, Sara is a certified fitness trainer and owner of All Women Have Muscles. She adheres to the principles of High-Efficiency Training and typically trains clients on a one visit per week basis. You do not need to get in great shape before coming here or starting a program. Sara's job is to help you every step of the way!
High efficiency, strength training, and conditioning is one of the most time efficient and results-driven ways to train while keeping the body injury free.
Sara helps correct the three most common mistakes people make when working out: improper form and technique, not training with enough intensity, and over-training.
Sara specializes in providing a solution to these common mistakes by:
Insisting on impeccable technique to maximize the benefits and minimize the risks
Teaching you how to train harder by training smarter and ensuring sufficient training intensity
Scheduling workouts at intervals that allow for recovery and adaptation to avoid overtraining
Sara's training philosophy
www.fitnolimits.com
www.realwomenhavemuscles.com
European Institute of Fitness
Master Trainer | ISSA Certified Strength and Conditioning Specialist
Oregon State University
Bachelors of Business and Behavioral Science – Magna Cum Laude